Types of Waist Trainers: Corset or Waist Cincher or Waist Trimmer?
Steel boned corsets, latex waist cinchers, neoprene waist wraps…there are so many different types of waist trainers that it can be completely overwhelming when you're first starting out.
All you want is to find the best waist trainer for you and instead, you're stuck wading through a pile of words and terms that leave you more confused than before you opened up your Internet browser.
Well, no more of that. We're here to end the confusion once and for all.
What exactly is a waist trainer?
You've already heard all the variations – waist trainers, waist shapers, corsets, fajas, waist cinchers – and you want to know…what is what?
To understand, let's take a brief step back into history. Back in the day – way back, like, the Victorian era – there was only one kind of waist trainer and it was called the corset.
The traditional corset was steel boned and used to achieve a small waist by tightlacing, also known as corset training. By gradually cinching a corset tighter and tighter, you would reshape the cartilage connecting the "false" ribs to the sternum and reposition the "floating" ribs as well as the organs in order to create a tapered waistline.
If you're not interested in tightlacing, don't worry. This isn't what all waist training is about nowadays. Now, in the 21st century, we have a lot more options.
These days, when people talk about waist training and waist trainers, they're not necessarily referring to tightlacing with an actual, traditional corset. Instead, they're most likely using one of the many, many types of waist trainers out there.
And yes, the sheer variety can be overwhelming. But it's also a really good thing because there is a lot of variance in how the different types of waist trainers affect your breathing, posture, comfort while wearing it as well as the how drastic and quick the results are.
So the wonderful variety just means that you'll be able to find the perfect waist trainer for you. Every type of waist trainer has its pros and cons so read through the list and see which one is your hourglass soulmate!
Corsets
Nowadays, a lot of marketers refer to any type of waist trainer as a "corset" but this is far from true.
So what is a real corset? A true corset has boning, usually made of steel, and laces in the back that are used for tightlacing. The boning is the key to a corset's shaping power since it allows the corset to keep its shape when its cinched tighter and tighter. As you slowly tighten the laces, the steel boning gradually contorts your ribcage to the shape of the corset, essentially tapering your waistline.
Think of corsets as the most "hardcore" option when it comes to waist trainers since these can chance your actual physical shape over time. Many serious waist trainers – the ones who've been doing this before it was cool – consider only corsets to be true waist trainers and the rest to be merely "waist tamers."
PROS
Has the most dramatic waist slimming effects, thanks to the firm.
Can take multiple inches off your waistline instantly.
Can produce drastic results such as a potential waist reduction of 5 to 6 inches or more when worn properly and for long periods of time.
CONS
Can not exercise in this and may be difficult to wear when doing strenuous activities.
Can be uncomfortable to wear for hours at a time, although you may eventually get used to the feeling.
Not totally seamless under clothes, especially where the laces are.
One last thing you should know about corsets is that they're not the most newbie friendly.
Serious corset training is more than just a trend – it's a lifestyle. It's not as simple as strapping on a corset and getting an hourglass figure – you'll need to learn about how to properly choose a corset, how to season one and how to safely and successfully corset train your figure. This can take months and years and a lot of patience.
BEST STARTER CORSET FOR WAIST TRAINING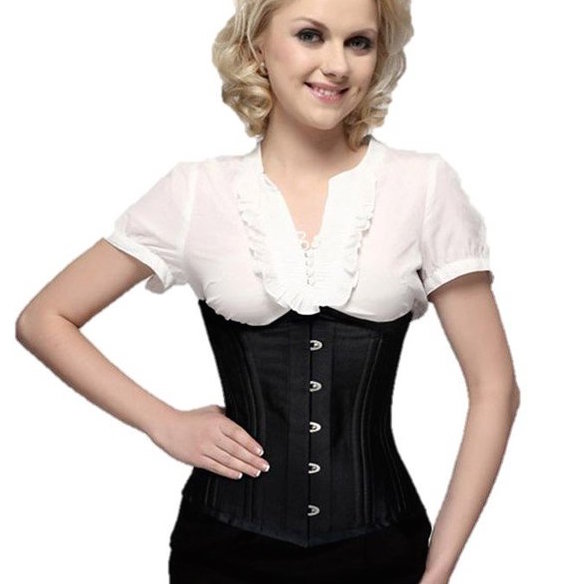 Camellia's steel boned corset is the perfect starter corset for waist training. It's high quality, sturdy and comfortable, with 20 flexible steel bones and great lacing with almost no give.
It's also highly affordable, making it perfect for a starter corset!
Waist Cinchers, aka Fajas
These are the waist trainers you see pretty much all the celebrities wearing. Cinchers are like corsets in that they visibly and immediately shrink your waistline while wearing them but they have a few crucial differences.
For starters, cinchers are usually made of a combination of latex and/or spandex that compresses your body but is also able to move with it, making it less restrictive than a corset.
Cinchers are also more flexible with boning options – there are cinchers with no boning, fewer steel columns of boning or flexiboning that's made of plastic and provides more pliable support.
The last notable difference between waist cinchers and corsets is that cinchers don't have lacing so you won't be able to tightlace with these. Instead of laces, waist cinchers usually have a few columns of hook-and-eye closure that allow you to adjust the tightness of the cincher as you go.
PROS
Comfortable to wear since the flexible fabric and boning is more pliable.
Can wear comfortably for hours. Also a lot more comfortable to work out in or sleep in.
Looks smooth under clothes and easy to hide under clothing.
Provide great compression and shaping that can instantly reduce your waistline by a few inches.
CONS
Milder results than with corset training. You'll still get a few inches of reduction and if you carry extra fat on your tummy, waist cinchers will help shave that off and bring in your waistline but it will not provide the extreme hourglass shape that a corset can.
BEST WAIST CINCHER FOR WAIST TRAINING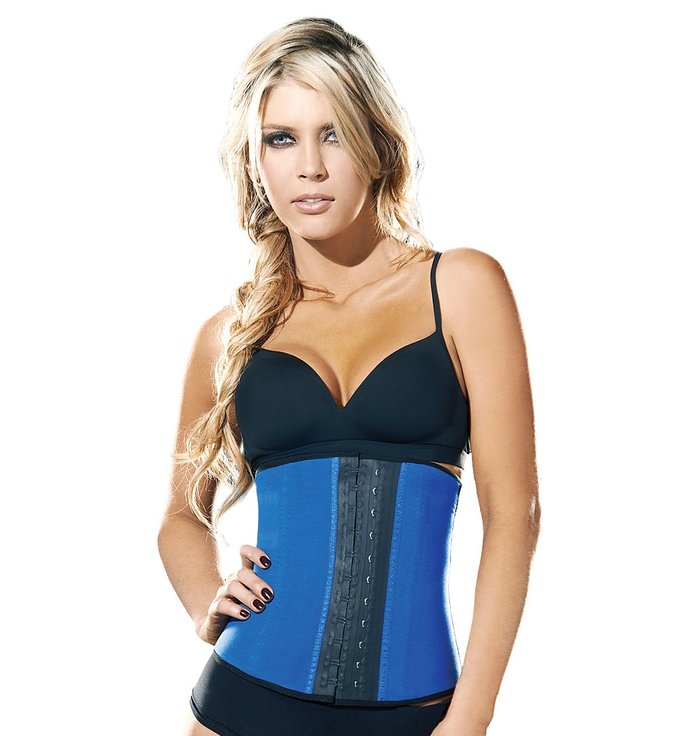 Ann Cherry's waist cincher is probably the most popular cincher for waist training and for good reason – it's gorgeous, comfortable to wear while providing great support and compression, and it's very reasonably priced.
Waist Trimmers
Waist trimmers are in a different category altogether. Rather than training your waist to conform to an hourglass figure, waist trimmers are all about heating up your core and causing you to burn belly flab.
Waist trimmers are intended to be worn during workouts and are usually made from flexible neoprene that allows for a full range of motion while heating up your core temperature to burn calories faster while also ridding you of unwanted toxins and water weight around your midsection.
PROS
Effective aid for burning belly fat and naturally losing inches off your waist.
Makes you sweat a LOT more than you normally would from a workout, imitating a sauna to help you boost calories burned and lose excess water and fat from your core.
Comfortable to wear even during strenuous workouts.
Provides back support during workouts.
Affordable and durable.
CONS
Will make you sweat buckets.
Because of the sweat, if you have sensitive skin, you may experience irritation or a rash.
Not intended to wear under tight-fit clothes and will shows if you do.
Not designed for waist training and will not shape your waist into an hourglass but is great to combine with a trainer like a corset or a cincher and use during workouts to get rid of flab.
BEST WAIST TRIMMER FOR BURNING BELLY FLAB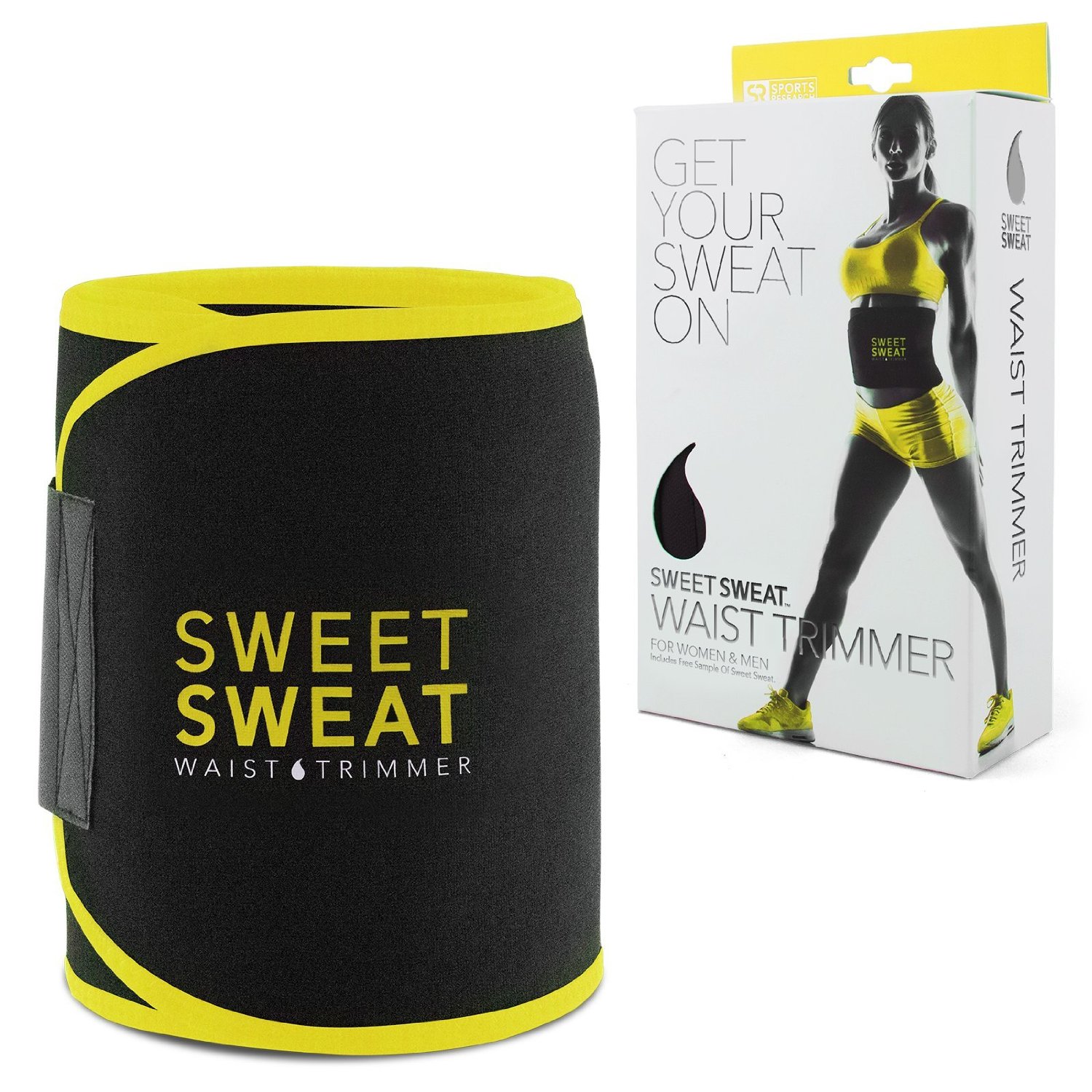 When you're looking to fire up your workouts and torch belly flab, you can't go wrong with Sweet Sweat.
This neoprene belt wraps comfortably around your waist to make you sweat out toxins and excess water and lose inches of fat around your midriff!
So which should you choose – which waist trainer is the best for you?
To be honest, you don't have to choose! The above waist trainers serve slightly different purposes and they are not mutually exclusive at all.
In fact, the best choice may just be a combination of the above. When you're doing cardio to torch fat, use a waist trimmer to get rid of belly flab.
On your average days at the office or running about town, you can use a waist cincher to instantly slim your waistline and gradually – yet comfortably – train your waist.
And lastly, for dramatic slimming on days that you can use the extra "oomph" or you're watching TV (not doing anything strenuous), you can taper your waistline with corset training.
So feel free to incorporate all the above waist trainers into your day-to-day. The only thing you have to lose is inches off your waistline!