4 Amazing Waist Training Success Stories
Wearing a corset is no easy task. In fact, it's probably one of the most uncomfortable things you can do to yourself while trying to attain that perfect hourglass figure.
Waist training restricts the way you eat and move, and it can even make it tougher for you to breathe. So unless you have the resilience and dedication of an Olympic athlete, it can be hard to stay motivated.
I for one, find it much easier to put myself through pain (especially when I can't immediately see results myself), by reading success stories. It means that if I keep trying and don't give up, I too could get those same results!
Here are the top waist training success stories that inspire me, from celebrities to regular people who have blogged about their experience.
Hope they help you during those times when you can't drink a beer or eat a full pizza, and are wondering why you signed up to have your waist cinched in the first place.
Naadira Burke: Founder of Royal Lioness
Naadira wrote about her experience weight training as a fresh college graduate who felt like her body wasn't reaching its full potential. In her blog, she blames her genes, saying she has a boyish body with "weirdly placed" love handles and a muffin top.
After using a waist trainer, she claims to have lost five inches off her waistline in two months, and posted these images on her blog as proof.
She wore her waist trainer for four hours a day, and exercised with it on. Naadira says that wearing a waist trainer improved her posture and eating habits too, so it's safe to say she was eating healthy whole waist training. (It's not a magic fix guys.)
The corset she used:
Naadira has her own brand called Royal Lioness, she used a latex/rubber waist trainer from her brand that she says offers more flexibility than rigid corsets.
Fun fact: Naadia got a huge confidence boost using a waist trainer, and credits the fact that she launched her own company to waist training. She mentions on her blog that seeing results with the waist trainer made her go after her body goals actively, and also made her feel like her other life goals were attainable.
Jessica Alba: Movie Star
Jessica Alba confessed to using a waist trainer to get back her pre-baby body after the birth of her two children Haven and Honest. She went harder than most people would and wore not one but two corsets every day and night for three months. Sounds brutal right?
The star admits it was very tough but has called corset training, "sweaty but worth it." In addition to wearing a corset, Jessica ate a healthy diet, exercised and drank lots of water to stay hydrated. (Remember that if you're going to be sweating a lot, it's important to drink water.)
She waited three months after giving birth to start her training program.
The corset she used:
Jessica hasn't revealed what brand she wore (which means no one paid her to say how well corset training worked for her). But she did mention that she wore a "double" corset. Sense Lingerie makes a two-layer corset that can be found here.
Fun fact: Jessica said that corset training is "not for everyone", when she spoke about her experience. Translation: be prepared for pain, lots of pain.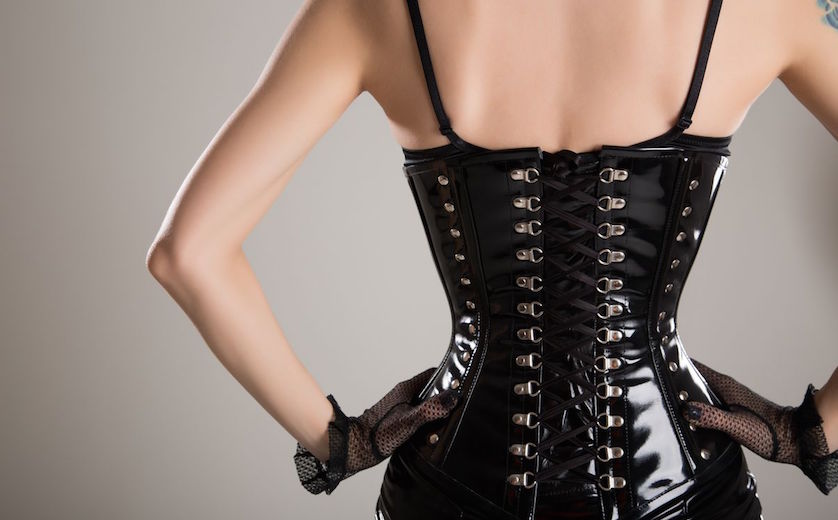 Heidi: Blogger at Strait Laced Dame
Heidi tried waist training when she was 21-year-old. She mentions in her blog that she started when she had just moved to Texas (many miles away from her family and friends) for an internship, and was feeling low and facing body image issues.
Her desire to change her body led her to waist train. She managed to lose two inches off her natural 27 inch waistline in six months, when she was waist training around 60 hours a week.
The corset she used:
Heidi used a black underbust corset by Jill Hoverman of Romantasy.
Fun fact: More than the physical change, Heidi credits waist training with helping her achieve a positive mental change. Corset training helped her learn "patience and diligence" according to her, and also accept her body both in and out of the corset.
Kim Kardashian West: Reality Star
The queen of waist training Kim Kardashian arguably put wearing corsets on the map after she shared snaps of herself wearing a corset with her millions (yep, millions) of social media followers.
She has often said that waist training really helps her, and that she also has a very rigorous exercise routine and diet.
The corset she used:
Kim uses corsets made by the shapewear brand Ann Cherry.
Fun fact: Kim's sisters have also jumped on the waist training bandwagon (Khloe and Kourtney Kardashian and Kylie Jenner) and all of them have posted social media snaps expressing their happiness with corset training.
Judging by the Kardashian curves, those are some great success stories right there.
Read Next